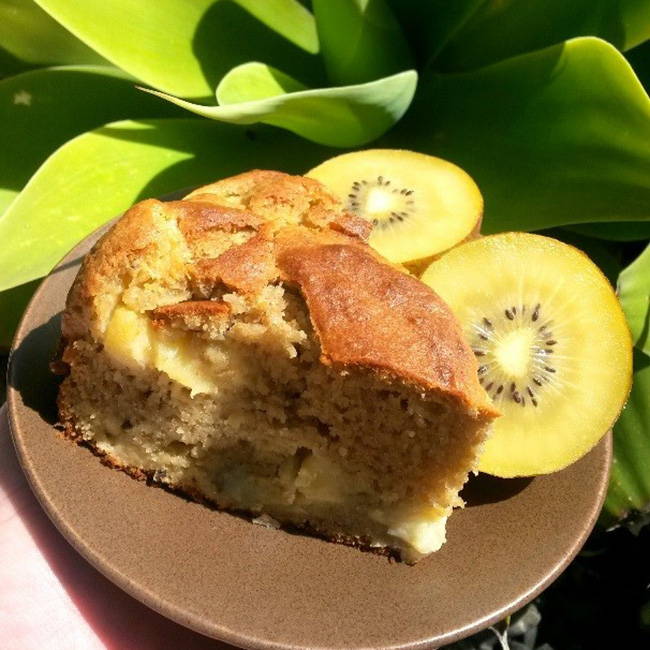 If you're looking for something a bit different than our usual recipes, then you're in for a treat (literally!) with this yummy kiwi vanilla cake. It features Balance Plant Protein, one of our most popular protein powders, and it's fast and easy to make. With only 200 calories and 12g carbs per slice, it'll make a great snack any time of day.
Prep time: 10 minutes
Cooking time: 40 minutes
Servings: 12
Ingredients
1/2 cup olive oil
1/2 cup (120g) apple puree, no added sugar
2 eggs
1 serve Balance Plant Protein (Vanilla)
1/4 cup brown sugar
3/4 cup almond meal
3/4 cup buckwheat flour
1/2 tsp baking soda
1/2 tsp baking powder
3 kiwifruit, peeled and chopped (alternatively, you can use any other flesy fruit like bananas, peaches, or pears)
Directions
Preheat oven to 180 C.
Line a 20cm round cake tin with non-stick paper.
Mix the wet ingredients in a bowl and the dry ingredients in a second, larger bowl.
Add the wet ingredients to the dry and fold with a wooden spoon to combine.
Add the chopped fruit and mix through.
Pour cake mixture into the prepared tin and bake for 40 minutes until browned on top and a skewer comes out mostly clean.
Nutrition Info
Serving Size: 1 slice
Average Quantity Per Serving