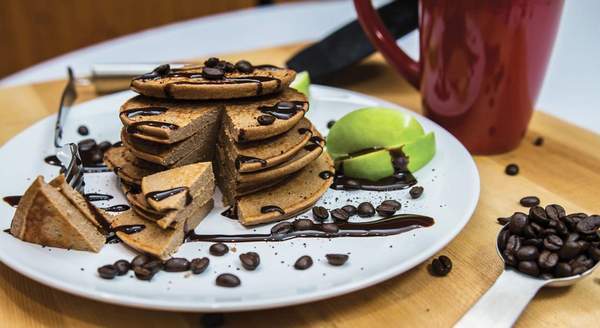 Breakfast is sort of a double-edged sword. A solid breakfast can jump-start your day—in terms of both energy and mood—but you'll probably have to hop out of bed a bit earlier to make it happen. For some people, it's just not worth it, and that's fine. But if you happen to have extra time in the morning, spend it making these tasty protein pancakes.
This chocolate protein pancake recipe from Cellucor features Cor-Performance Whey Protein, a fast-acting whey with low carb and fat content. If you're not in the mood for chocolate, it should be easy enough to swap the protein flavour and topping for another combo.
1 large egg
2 large egg whites
1 1/2 cup rolled oats
6 tbsp coconut flour
1 tsp baking powder
1 1/2 scoops Cellucor Cor-Performance Whey Protein (Chocolate)
140g fat-free vanilla Greek yoghurt
120ml coffee
Add all of your ingredients into a food processor (starting with the dry ingredients, then add the wet ingredients), and blend until smooth.
Preheat a frying pan on a medium heat and coat the pan with nonstick spray.
Pour your mix in and cook each side of your pancake for around 2-3 minutes.
Enjoy!